Company Info
Finding a knowledgeable and trustworthy life and investment insurance broker in Toronto, ON is crucial to getting the kind of coverage you need at a price you can afford.
Devang Shah is licensed in Ontario by the Financial Services Commission of Ontario (FSCO).
Ontario License #:03080774
Alberta License #:M-208224-3525177/Q-208224-3525177.
Ontario Mortgage License #: M11001677
We provide our clients with the best resources and products for personal protection, retirement solutions, children education planning, estate planning, mortgage services* and travel protection to our clients throughout Ontario and Alberta.
*(Mortgage license and advice is for Ontario residents only)
We extend these same services to small business owners with additional specific needs like key person insurance, buy & sell funding and business succession. We also aid our corporate clients in the design and administration of employee group benefit plan and group RRSP.
Our aim is to provide you with a financial planning advantage by working with our team of professionals.
Let Us Help
Having insurance is vital in the busy world we live in. In today's vast insurance market, people can often be confused with the numerous insurance plans offered to them. Let us help you answer your questions and provide you with the most suitable coverage at the best possible price.
We represent most of the major Insurance providers licensed to operate in Ontario including: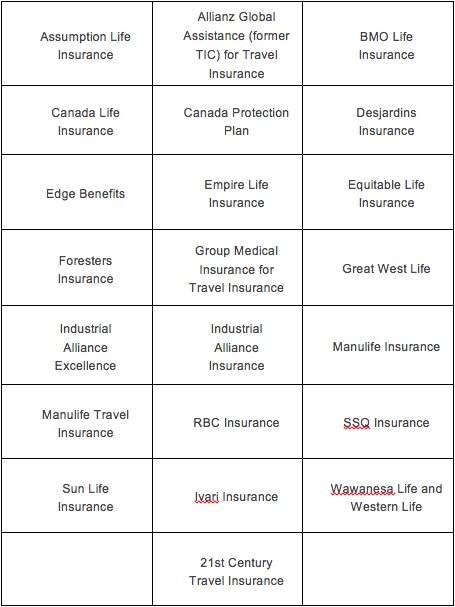 And More
Our goal is to support you as your family financial planner and help you find insurance and investment products best suited to help you achieve your goals. We do not favour any insurance companies that we represent, as we work in the best interest for our clients.
We offer free no-obligation quotes for the following products:
Life Insurance
Mortgage Insurance
Term Insurance
Critical Illness Insurance
Disability Insurance
Permanent Insurance
Universal Life Insurance
Travel Insurance
Supervisa/Visitor's Visa
Whole Life Insurance
Guaranteed Issue Life Insurance
No Medical Insurance
Seniors Life Insurance
Funeral Insurance
Key-Person Insurance
Etc.
We offer a team of dedicated personnel that will help you find a product best catered for your needs, while offering an optimized price.
Give us a call today!
***Denikings Insurance and Investment Broker has not set up any referral program with any lawyers or accountants. Instead, lawyer and accountant services are provided through professional network. The purpose of the team is to provide a one stop solution.
---
Disclaimer: Insurance, Investment and Mortgage products & services are provided by Devangkumar Shah.
Mutual Funds license sponsored by Shah Financial Planning Inc.
Lotus Loans and Mortgage ltd. is the principle mortgage broker.